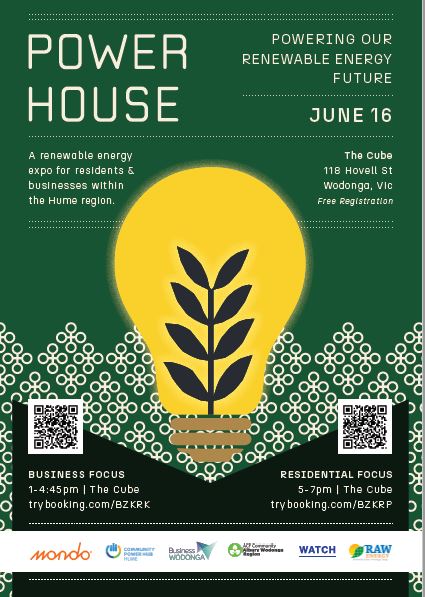 Renewable Albury Wodonga (RAW) and ACF-AWR are hosting a POWER HOUSE EVENT. This has been made possible through funding provided by the Hume Community Power Hub 'Renewable Energy Readiness Fund' in the Hume region, with major sponsorship matched by Mondo.
This event will incorporate two sessions: a daytime session for border area business and an evening session for residents. The purpose is to:
Inspire people to Electrify their Businesses and Residences to reduce emissions and save money
To showcase renewable energy developments in our area
To give businesses and residents access to information about renewables
The Business event will run from 1:00pm to 4:45pm
and the Residential event from 5:00pm to 7:00pm
The program contains diverse speakers delivering short sharp insights to the emerging energy transition, as well as providing access to installers and local businesses so attendees can have face to face conversations about their own renewable interests.
RSVP soon so that you don't miss out on these events.