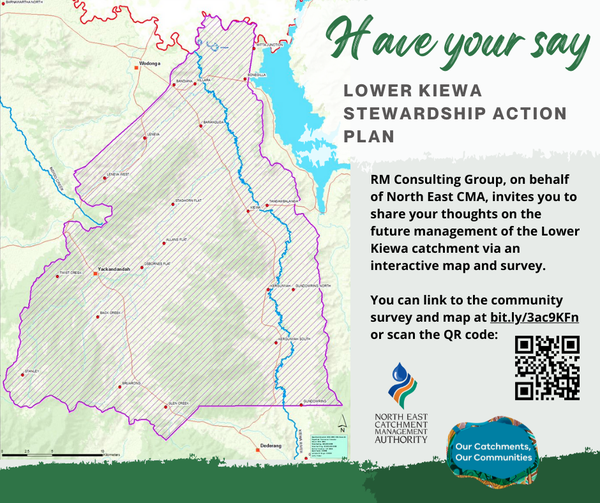 Closing 15 June – have your say on the management of the Lower Kiewa catchment
Stewardship Action Plan for the Lower Kiewa
A Stewardship Action Plan is being prepared to guide management of land, water and biodiversity values in the Lower Kiewa catchment. This is an opportunity to support the community to connect and collaborate in catchment stewardship.
The North East Catchment Management Authority (CMA) are leading the development of the Stewardship Action Plan with input from a broader group of stakeholders, government and non-government organisations and the community.
RM Consulting Group (RMCG) have been engaged to support the North East CMA in the preparation of the Action Plan.
We want to hear from you
A key part of the action planning process is to capture community aspirations for the health of the Lower Kiewa catchment.
Over May and June 2022, RMCG are seeking input from the community to shape the Lower Kiewa Stewardship Action Plan. There are a number of ways in which you can share your views.
For more information, contact Sam Gitahi on 0418 145 240 or email samuel.gitahi@necma.vic.gov.au