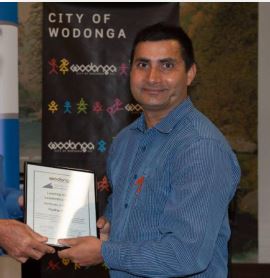 Can you imagine….
… being told that unless you can prove your citizenship in Australia to have been established prior 1958, you would be classified as an illegal immigrant?
… having to live with your family under canvas for years to come in squalid conditions, along with thousands of other people?
… eventually to be given a choice – to either stay in a familiar community with a support network you know, or to live in a foreign country, alien to your own language and culture?
Radha Guragai is a survivor of just such an ethnic cleansing process.
Radha, one of the Bhutanese community leaders of Wodonga, will share with us the story of his people, the journey which began in Bhutan where they were banished from their native land, to be held for years in a refugee camp in Nepal, and finally given approval to re-settle in Australia, one of a few countries that would accept their resettlement.
This event is proudly sponsored by City of Wodonga.
Don't miss out on this cultural exchange information night and reserve your seat as soon as possible.
Admission $5pp – with buffet meal $20pp                   
Bookings are essential
Feel free to call Bart on 0419 390 329 for more information.