By Les Langmead
I came across this moving photo when I researched my grandfather's war service in the trenches of France in World War One.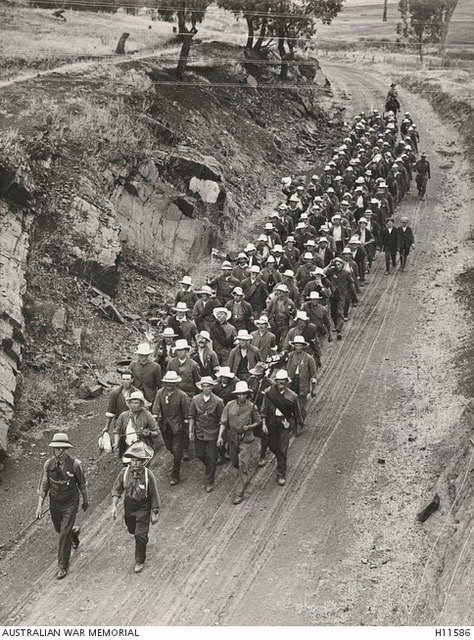 During that war, thousands of Australian men marched towards our capital cities to enlist. These men were not conscripts, they were volunteers.
The group in this photo started from Wagga Wagga and walked all the way to Sydney. They would call out 'coo-ee' to round up more volunteers from each town. These walks became known as the 'Coo-ee marches'.
Over 400,000 Australians enlisted during WWI (eight per cent of the population) and nearly a million in WWII.  Despite our size, we have taken part in at least eight international conflicts over the years at the cost of 100,000 Australian lives.
Yet, on the most important global issue in human history, tackling climate change, our national leaders are telling us that our contribution is too small to be worth making.
Fifty per cent of global carbon output is from countries that each individually contribute less than two per cent.  And many of those are now well on the way to replacing fossil fuels with renewables.
We have almost the highest per-person carbon footprint in the world.   We are also the largest exporter of coal and gas in the world. These exports make our global carbon contribution closer to four per cent not the one per cent that we are being told.
The recent bushfires and extreme weather events have occurred in the context of  a global temperature increase of 1.4°.  There are now firm predictions that unless we halt that increase, civilised life will fall apart by the time today's toddlers grow up. Not just Aussie toddlers but toddlers in every corner of the world.
If we leave it any longer, we will not be able stop these spiralling changes.
Only we can do something about our carbon output.  The sooner we get on with it, the less it will cost in money, jobs and lives.
Australia has enough solar, wind, tidal, geothermal and technical resources to not only be 100 per cent renewable but to even export renewable energy.
We are proud of 'punching above our weight' in war, sport and other areas.
We have to heed this new Coo-ee call and do our bit about the most urgent challenge the world has ever faced.