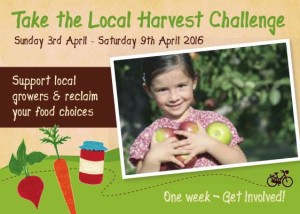 By Karen Retra, Seed Savers Albury-Wodonga
I'm taking the Local Harvest Challenge, a national initiative encouraging people to make mindful food choices for a week (localharvest.org.au). Not because I'm usually into food challenges, nor because I've got all the answers, but because it's a great excuse to re-examine where my food comes from. And whether my purchasing decisions are supporting the sort of food system I want, that meets my needs but also my values. It's also a chance to celebrate the local food I'm already accessing as well as dedicate some time to find out about and try new options – which can sometimes get lost in the busyness of life.
The Local Harvest Challenge week runs from April 3 to 9 this year. Participants set their own goals and the intensity of the challenge. Which means it's perfect whether you've never thought about local food before or whether you've been a local food seeker for years. 'Challengers' nominate how many challenges they plan to undertake, and even define which 'local' they are looking to target – it can be under 25km; up to 165km (100 miles); within your state; or from Australia.
The challenge resources include lots of tools and information. There are many suggested actions you can try. Or you can create your own.
Depending on your preferences, the challenge could see you not only reduce your food miles, but also connect with local growers, food businesses and your members of parliament. You might seek ways to reduce packaging, turn your waste into a resource, or even make use of waste from others. You could visit local growers, food swaps or community gardens. Or at home, try growing food, starting a worm farm, explore urban beekeeping or host a 'pot luck dinner', where you invite your friends and neighbours along to join the local food conversation.
I'm looking forward to practising what I've learnt and implemented so far on my own local food journey, as well as seeking new options. We've entered a team in the challenge called Seed Savers Albury-Wodonga that you're welcome to join. You can also register as an individual, a family or your own team. Or just follow along – I'm sure you'll find it interesting.
For news and resources about the challenge visit localharvest.org.au/take-the-challenge. I'll also be reporting how I go with my challenges on the Seed Savers Albury-Wodonga website ssaw.org.au.