By Lizette Salmon, Sustainable Living Festival event officer
So much of what we do is automatic – jump in the car, switch on the air-con, pop clothes in the drier, but such habits hit the hip-pocket and harm the environment.
What if we hopped on a bike, flicked on a fan and hung out the washing instead?
Entertainer, John Walker, and Wodonga Citizen of the Year 2017, Teju Chouhan, are particularly mindful of their everyday energy use.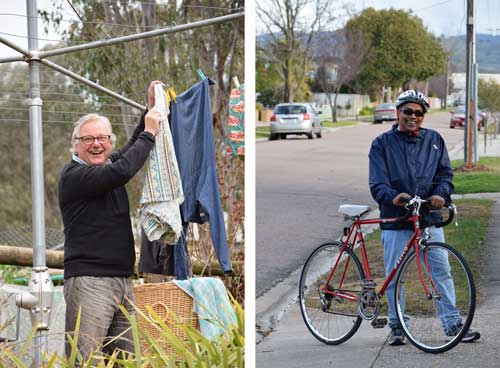 They are two of eight well-loved locals whose living lightly stories will be featured at  Albury-Wodonga's popular Sustainable Living Festival, a month long calendar of events, including a fair and tiny house display at Junction Square on Saturday, November 18.
John grew up in the country and experienced a lot of drought.
"Everyone would share a bath or bathe in the dam," John said.
"That mentality of conserving water sticks with you through life and has affected my attitude to energy.
"I'm aware of the strain on the electricity grid in the summer months, with all the air-conditioners working, so I don't automatically switch on the cooling when it's hot."
Cooling yourself is more efficient than cooling the whole home, so having a cold drink or, as John does, splashing your face with water, is a good way to cool down.
Using fans instead of cooling systems saves a lot of money.
Set the air conditioner as high as you can in summer (24 degrees or higher), and in winter, as low as you can (20 degrees or lower).
John also uses a clothes line instead of a drier, saving him up to $240 a year in electricity.
Teju is similarly intent on reducing his home energy use.
Where possible he uses active and public transport too.
When travelling to Melbourne he takes the train when on his own and he recently renewed a commitment to cycle to work.
"I used to ride but got out of the habit when my bike needed repairs," Teju said.
"I got it fixed and ride to work twice a week."
Albury and Wodonga are connected with excellent bike tracks. Riding for transport helps health and wellbeing as well as the environment.
For more on John and Teju's stories and the Sustainable Living Festival program, please visit http://wod.city/SLF2017. The Festival is brought to you by Wodonga and AlburyCity Councils and proudly sponsored by OzGreen Energy and Halve Waste.