By Lizette Salmon, Sustainable Living Festival event officer
November marks the start of Albury-Wodonga's popular Sustainable Living Festival, a month long calendar of events, including a free entry fair featuring a tiny house experience at Junction Square on Saturday, November 18.
To celebrate this year's festival, eight well-loved locals have agreed to share their living lightly stories during a special four-part series.
Indigenous elder, Nancy Rooke, and Brave Hearts on the Murray founder, Jenny Black, come from different countries and cultures, but from an early age both formed a strong connection to nature, a dislike of waste and an aversion to litter.
Nancy grew up on banks of the Murrumbidgee and made her own cloth shopping bags from the tender age of 10. "I'm 82-years-old now and still buy second-hand fabric from op shops to make into shopping bags, produce bags and clothing for children and grandchildren," Nancy said. She even makes cloth bags instead of using wrapping paper for presents, and avoids plastic bags. "I don't like all the plastic around," Nancy said. "You see it flying around out in the bush and it looks terrible."
Australians use 10 million plastic bags per day, yet it's easy to get into the habit of packing a cloth bag when you go shopping.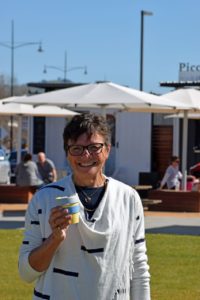 Jenny's childhood garden was full of fresh vegies and compost bins. "We were very mindful of not wasting," Jenny said. "We rode or walked to school, washed and reused milk and beer bottles. "It's dreadful how much more waste we produce now."
For years, Jenny's used cloth shopping bags, refillable water bottles and had a 'No junk mail' sticker on her letter box, but a few months ago she discovered that takeaway coffee cups aren't currently recycled. She, like many others, assumed they were made of cardboard, not realising they contain a wax or plastic lining that makes it difficult to recycle.
Australians throw away 3 billion coffee cups a year.
Now Jenny's a BYO cup convert. A reusable cup is light-weight and easy to carry with you, with some coffee shops offering a discount for BYO cups.
We live on a finite planet. The billions of plastic bags and coffee cups we produce each year will not decompose or disappear.
Please join Nancy and Jenny and BYO bags and cups.
For more on their stories and the Sustainable Living Festival program, please visit http://wod.city/SLF2017. The Festival is brought to you by Wodonga and AlburyCity Councils and proudly sponsored by OzGreen Energy and Halve Waste.