By Lizette Salmon, Albury-Wodonga Sustainable Living Festival event officer
No one likes polluted land or water, but how many of us do as much as we can to prevent it as well-loved local Luisa Pelizzari?
Radio presenter Luisa is mindful of 'invisible' contaminants and avoids harmful chemicals in garden, cleaning and personal care products.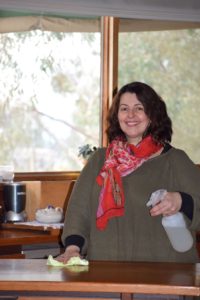 "It began when we moved to a small farm seven years ago and the weeds went crazy after the sheep were removed," Luisa said.
"My husband bought some herbicide, but the list of ingredients basically said we had to burn our clothes after use and I thought 'no way'.
"What about the effect of those chemicals on our free-ranging chooks and the eggs we were eating?
"I've become really aware of the impact of chemicals on the food chain."
After manually removing the weeds the native grasses eventually grew back.
For health and environmental reasons, Luisa also avoids cleaning and personal care products with harmful chemicals, substituting chemical-free products and fibre technology cloths.
"Some work better than others; I've used trial and error to find the ones that are best for me," Luisa said.
"My first chemical free deodorant didn't work, and another gave me a rash, but now my neighbour makes me a deodorant that works really well."
To avoid chemical cocktails don't buy chlorine bleaches, laundry products that contain phosphates, toilet 'blue' or other cistern additives, antibacterial cleaners, synthetic fragrances and air fresheners.
It's easy to make your own cleaning and personal care products using just a handful of readily available products such as vinegar, bicarbonate soda and olive oil. For home-made cleaning and personal care recipes sourced by local sustainability consultant Michelle Wilkinson, see http://bit.ly/SLFrecipes. Recipes include miracle spray, cheapskates washing powder, mould spray, calendula and comfrey ointment, shaving oil and coconut oil deodorant.
November marks the start of Albury-Wodonga's popular Sustainable Living Festival – a month of events, including a fair and tiny house display at Junction Square on Saturday, November 18.
This year a bunch of well-loved locals, including Luisa, have agreed to share their living lightly stories.
For more on their stories and the Sustainable Living Festival program please visit http://wod.city/SLF2017
The Festival is brought to you by Wodonga and AlburyCity Councils and proudly sponsored by OzGreen Energy and Halve Waste.