By Karen Bowley, Wodonga Albury Towards Climate Health (WATCH) and Wooragee Landcare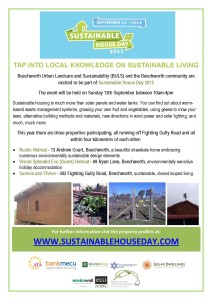 If you want to learn about how to live more sustainably or are keen to see how other people live sustainably, there are two wonderful events close by where you can do just that.
On 13 September 2015 between 10am and 2 pm the North East Rural Living Fair will be held at the Wooragee Hall and School complex on the Beechworth-Wodonga Road, Wooragee, hosted by Wooragee Landcare.
The focus of this event is to promote sustainable rural living, in particular self sufficiency skills. There will be stalls of local products including nuts, soaps, wine, cakes, cider, olive oil and plants to buy.   There will also be talks by locals on bee keeping for beginners, gardening for climate change, biocontrol of pests, nest boxes,  preserving and knitting.  And if learning so much makes you hungry, there will be food available and music to relax you.  There will also be activities for children during the day and tours of the Wooragee Primary School with its Stephanie Alexander Kitchen and vegetable garden, frog bog and chicken yard, a past Indigo Shire Sustainability Award winner.
And on the same day Beechworth Urban Landcare and Sustainability and Indigo Shire Council present Sustainable House Day 2015 in Beechworth .  Sustainable housing is more than solar panels and water tanks. You can find out about worm-based waste systems, growing your own fruit and vegetables, using geese to mow your lawn, alternative building methods and materials, new directions in wind power and solar lighting and more.
There are three participating properties, all running off Fighting Gully Road and all within four kilometres of each other.
• 302 Fighting Gully Road, Beechworth – Sustainable living
• 13 Andrew Court, Beechworth – Strawbale home embracing numerous environmentally sustainable design elements
• 69 Ryan Lane, Beechworth – Vision Splendid Eco (Guest) Retreat
Living sustainably is about reducing your environmental footprint which is good for the planet but also good for your finances.  It encourages self reliance and a close relationship and respect for the environment in which we live. There are many ways that we can live sustainably and it is interesting and informative to share experiences and ideas and you can do this on 13 September in Wooragee and Beechworth.  If you want to find a sustainable house near you go to www.sustainablehouseday.com.