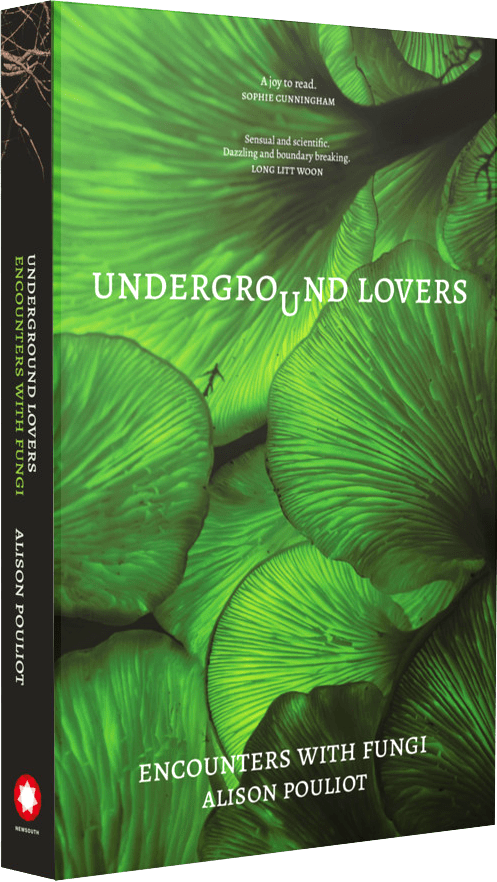 BOOK LAUNCH – Underground Lovers – Encounters with Fungi
Alison Pouliot will be giving a talk and launching her new book, Underground Lovers. Come along to hear some stories from Alison's adventures during the writing of the book and take a close look at the great line up of fungi on display.
Once overlooked, fungi are the exhilarating new poster organisms reconfiguring our understanding of the natural word and capturing the public imagination.
Alison's new book, Underground Lovers presents compelling questions and insights about fungi but is also an intimate celebration of their astonishing beauty and complexity.
It melds science and personal reflection to explore overlooked themes, among them – fungi and fire, fungi and climate change, fungi and aesthetics, fungi in ecosystem restoration, and fungi and indigenous wisdom. The book explores fungi through first-hand stories – from the Australian desert to Iceland's glaciers to America's Cascade Mountains. We'll dwell with fungal allies and aliens, discover how fungi hold forests together, and why humans are deeply entwined with these unruly renegades of the subterrain.
What can we learn from the lives of fungi? Underground Lovers  brings us to our knees, magnifier in hand, to find out.
Drinks and nibbles provided. Stay and catch up with friends and new acquaintances, and take a close look at the  fungi on display.
While this is a free event please register and let us know if you subsequently can't attend.
More information 0427 287 285.