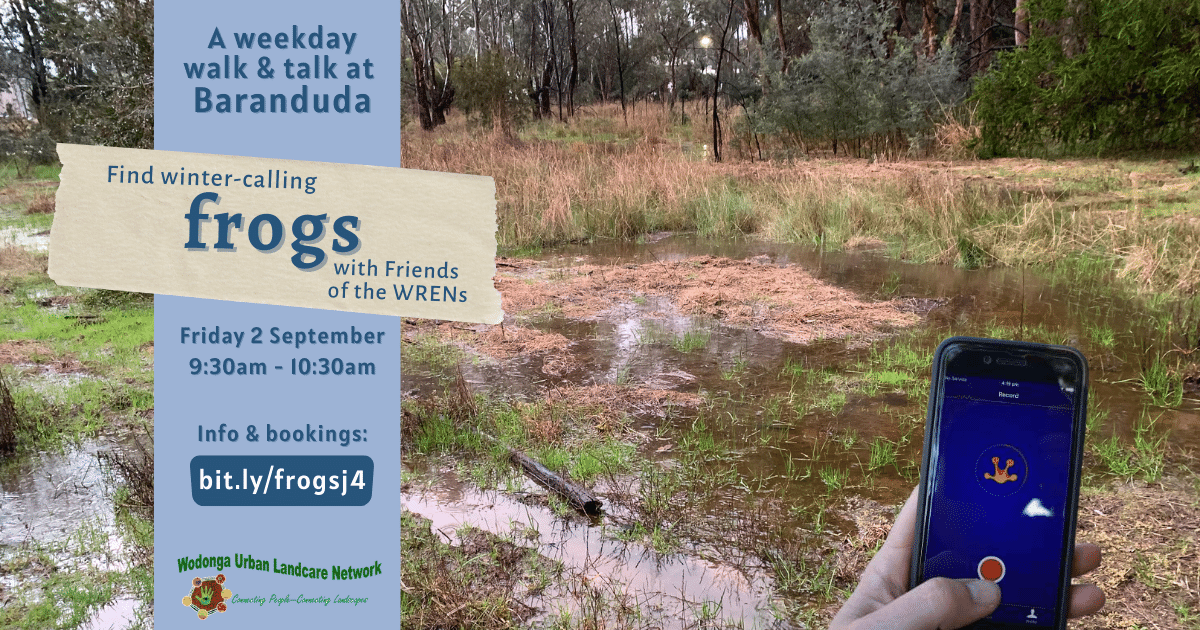 A weekday walk and talk with the Friends of the WREN, Baranduda to explore winter-calling frogs.
An opportunity to follow on from last year's FrogID sessions – suitable for experienced froggers and those who would like to find out what this is about.
Led by Karen Retra from Wodonga Landcare:
Using FrogID to learn about and record frogs
Latest news from the Sloane's Champions project, including efforts to locate Sloane's froglet this season
Share your experiences with FrogID, listen for frogs and tips for using the app
Free! Please register – bit.ly/frogsj4 – this helps us with planning and enables us to keep you informed should plans change.
Wear warm clothes, gumboots are suggested. We'll be wandering off from the meeting place and the trail has some puddles and muddy sections.
Where: WREN reserve J-4, which is the closed section of Boyes Rd between the Kiewa Valley Highway and Whytes Rd, Baranduda.
When: 9:30am to 10:30am, Friday 2 September 2022.
Map for parking and meeting place: bit.ly/wrenj4
Parking: there is a pull off from the Kiewa Valley Highway near the entrance to the reserve, as well as some space along the roadside.