By Megan Hunt, Health Promotion Coordinator at Gateway Health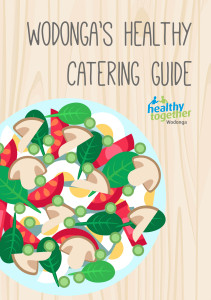 The Wodonga Healthy Catering Guide is here and ready for you and your workplace to use. The guide is a real menu in the making in taking initiative to encourage healthy eating behaviours in the workplace and in our community.
The guide, developed by Healthy Together Wodonga, has enabled businesses, Gateway Health and Wodonga Council to come together to focus on the demand and supply chain around healthy eating options, particularly on catering. This is an exciting initiative and we would like to say a huge thank you to these six local catering businesses:
Bean Tree Central
Border Catering
Café Grove
Nutrition Station
Yum's Food Bar, and
Zilch Café
For workplaces, it promotes healthy eating in both policy and practice and connects workplaces with other businesses. For the broader community, it provides information and raises awareness of options available locally and puts healthy eating back in the limelight.
All menu items in the guide have been assessed by the Healthy Eating Advisory Service (HEAS) at Nutrition Australia, using the Healthy Choices Guidelines.
The guidelines use a Traffic Light system to rank the nutritional value of foods and beverages and are based on the Australian Dietary Guidelines. The Catering Guide includes green and amber food items to ensure that the healthiest ingredients are used in all recipes and menu items.
Inside the guide you will find:
tips on healthy eating and workplace catering
links to the Victorian Healthy Workplaces Achievement Program and,
healthy menus from six local caterers (including prices per number of people)
By promoting healthy workplaces, we hope to increase the demand for healthy catering options. We also hope to build demand for healthier food options across our community.
The guide is available as an electronic download at http://bit.ly/WodHealthyCatering.
To discuss ideas on healthy eating or how to become involved as a local caterer, please contact the Health Promotion Team (02) 6022 8888 or email Megan Hunt, Health Promotion Coordinator at Gateway Health at megan.hunt@gatewayhealth.org.au.