Get Creative!!
You are invited to work with artist Linda Fish to create some stencil artwork inspired by the Thurgoona Sloane's froglet.
The stencils will create street art that is invisible when dry, only appearing in the rain, when the real froglets come out.
This workshop will create stencil artworks to be installed in public places around Thurgoona.
Thurgoona has one of the most important populations of the threatened Sloane's froglet.
Raise the profile of this Thurgoona local with some approved street art in public places.
What: Stencil Art Workshop with artist Linda Fish. All materials and afternoon tea provided.
Who: Anyone interested art making or the Sloane's froglet,
NO EXPERIENCE NEEDED.
RSVP: Sherylyne Moran 6043 1588 or coordinator@thurgoonacommunitycentre.org.au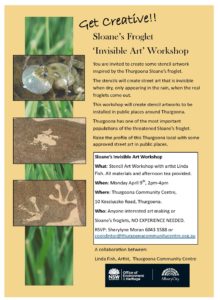 Download Flyer