Registrations are now open for the North Eastern Apiarists Association annual bee field day, to be held:
Sunday, October 1st
Swanpool Cinema, Midland Hwy, Swanpool
8:30 – 4pm
Cost: $50 including Morning tea & Lunch
Program will include;
Spring Management – optimising the opportunities of the season including hands on manipulation of hives
Assessing colony health, queen performance – reading the brood
Honey bee nutrition – anticipating colony needs for nectar and pollen
Pests and disease – identification and management options
Honey harvesting for small operations
Hardware assembly, small scale extracting, flow hive discussion and more!
Show and tell – send us your photos for discussion of successes, discoveries and mysteries
Redpaths Beekeeping Supplies will be in attendance on the day and will take orders prior to the workshop. Visit
www.redpaths.com.au
Participants are asked to bring with them any protective equipment they own and a chair for seating
outdoors. Veils will be available for purchase on the day. Please bring own wide brimmed hat.
Click the image below to open the flyer and registration form as a PDF.
North Eastern Apiarists' Association Inc – for advancement of apiculture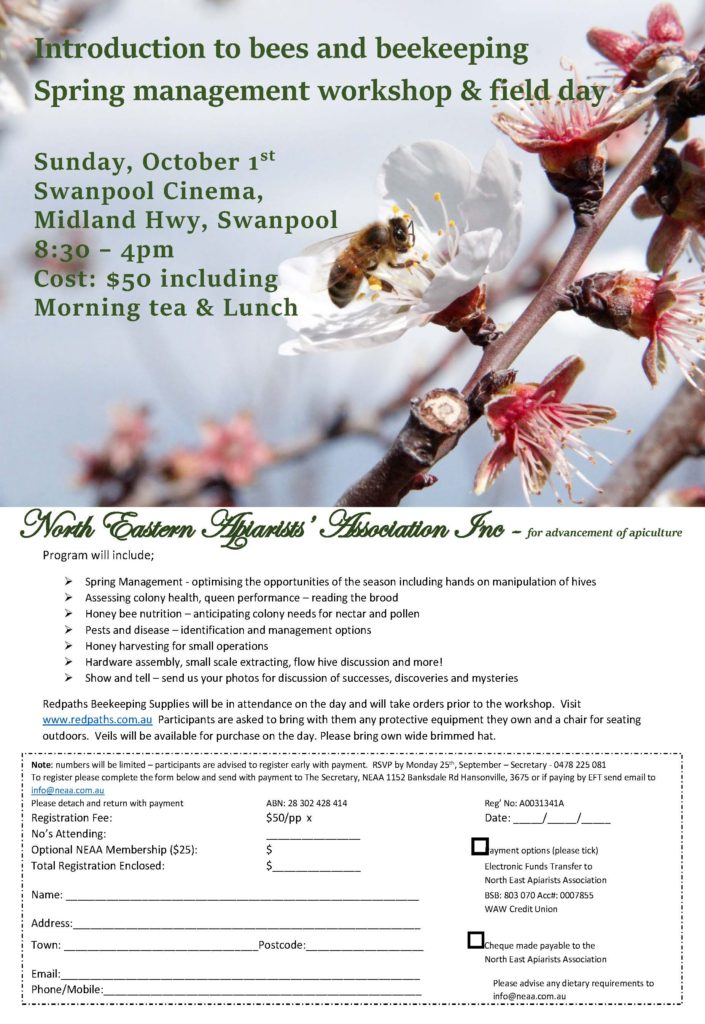 Download Flyer